Reading is at the heart of our whole curriculum intent and is high priority so that each child has the skills to be able to access all areas of the full curriculum.
We are dedicated to encouraging all children to be passionate about reading and writing. We are determined that all children will become highly competent readers and writers by the end of their primary education. It is our intention to immerse pupils in the wonders of quality texts to instil a love for reading, a passion for discovery and the confidence to explore their imagination.
The intent of our writing curriculum is to prepare the children for the future, both in education and in life. It is our aim to nurture a passion for expressing themselves in writing. Our curriculum, brought to life through high-quality, rich and immersive texts, motivates the children to write with enthusiasm. They are inspired to embrace new vocabulary and to apply it with flair in their writing in all genres. We instill confidence to draw on their knowledge and skills in writing across the curriculum, enabling them to write fluently, communicating their ideas and emotions.
Our reading and writing intent and progression documents can be found here:
Our Speaking and Listening Progression document can be read here
The standards we set are based on the Early Years Foundation Stage Framework and the National Curriculum. The Programmes of Study for English can be viewed here.
The list of words for spelling in Y3 and Y4 and for Y5 and Y6 can be found here.
PHONICS
We teach early reading and writing (including spelling and handwriting) through a scheme called Read, Write Inc., a systematic and structured approach to teaching early literacy. Devised by Ruth Miskin and used in more than a quarter of the UK's primary schools, the scheme is designed to create fluent readers, confident speakers and willing writers. We host workshops for parents in the Foundation Stage and in Y1 so that you can support fully your child's journey to becoming a fluent reader. You may find this clip from Youtube of interest. It shows how your child is taught to blend sounds together to read words. Click on the Read Write Inc logo to view it.
The Ruth Miskin website has an excellent series of short video clips designed to support parents understand how to say sounds 'purely. Click on the image below to watch.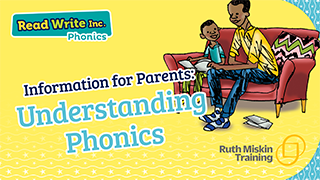 Our policy can be read here: Policy on the teaching of phonics
Reading Spines
We have developed reading spines for each year group which details the books that children will use in class plus a list of high-quality texts we would encourage children to access when reading for pleasure. Click on the year group link to download the book list.